The Homebound Rite of Passage
Is your child ready to be left home alone?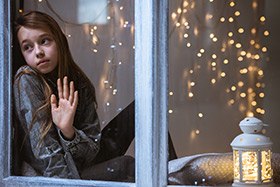 You hear tragic stories on the news of young children being left home alone to care for themselves, but that can't happen all the time, can it? Of course not.
Maybe it's after school before you get home from work, during the day while you run an errand, or in the evening so you can have a night on the town with your significant other. Whatever the reason, having kids old enough to stay at home by themselves means no more paying babysitters or calling grandma.
Since there are risks and dangers involved when leaving children unsupervised, parents and caregivers must consider carefully their decision to leave kids home alone. Wonder if your child is ready to stay at home alone? Each child is different, but here are a few things to take into account.
The Law
Only three states in the United States have laws specifying the age a child must be in order to be left home alone. These ages are 8 in Maryland, 10 in Oregon, and 14 in Illinois. Some states have a suggested age, and others don't mention an age at all. It's the parent's responsibility to know their state's law regarding leaving children home alone. Breaking the law can lead to serious legal accusations of child neglect.
General Guidelines
A child younger than 8 years of age should never be left unsupervised. As a general rule of thumb, children between the ages of 8 and 10 shouldn't be left home alone for more than an hour and a half at a time and never home alone when it's dark outside. When kids reach 11 to 13 years of age, they may be left for up to three hours but not during the late night hours. Around age 16, a youngster may be old enough to stay alone overnight.
Know Your Kids
Only parents know their children well enough to determine whether they're mature enough to be left unsupervised. Some 10-year-olds are and others definitely are not. Rather than basing the decision on age alone, parents must take into account a child's mental, emotional, physical, and developmental health.
Here are a few questions to consider before leaving a child at home alone.
Is the child willing to be left alone? If the thought of staying home by himself causes great distress, then your child probably isn't ready.
Does your child obey household rules when you're not looking?
How does your child handle new or stressful situations?
Does your child know how to handle emergencies?
How long will you be gone, what time of day, and how far away will you be?
Will your child need to prepare her own food?
Is your neighborhood a safe place to leave children unsupervised?
How many children will be at home?
Prepare Your Kids
A child is not ready to be left home alone until he knows a few basic responsibilities and skills. Make sure your child knows how to lock doors and how to get inside if he gets locked out. A child should know what to do if someone comes to the door, there's bad weather, or a fire breaks out. A child at home should have a telephone to use in an emergency, and he should know his address and phone number by heart.
Post a list of trusted neighbors' phone numbers, your home address, and numbers where you can be reached in a prominent place. Establish clear rules for your child while you're gone. No friends over, limited screen time, no cooking, and no opening the door to a stranger. Lock up alcohol, guns, lighters, tobacco, and medications.
Role-play possible situations with your child so she knows how to handle visitors, emergencies, or phone calls. The first time you leave, stay away for a short time to test the waters. When you're gone for extended periods, call to check in.