True or False?
Do you believe these COVID-19 myths?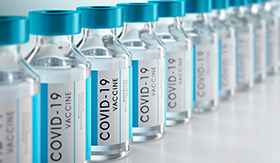 For nearly two years, it seems all anyone is talking about is COVID-19. You've heard about COVID-19 case counts and deaths, overcrowded hospitals, disease symptoms, and experimental treatments. Every conversation seems to turn to masks, vaccinations, immunity, and changing recommendations.
There is obviously a wide variety of opinions about the virus, prevention, and treatment. How do you know what to believe? It's not easy. Especially with the ever-growing crop of experts who find a way to get on the news and spout their beliefs.
While there is much debate, some myths have been disproven. Do you believe any of them?
Myth #1: You're only at risk for severe infection or hospitalization if you're elderly or have an underlying health condition.
Fact: While the elderly and those with underlying health conditions are at greater risk for severe infection, the virus does not discriminate. Previously healthy people of all ages, including babies, children, teens, and young adults have suffered from COVID-19. As the pandemic has gone on, more young people are winding up in the hospital and on ventilators, fighting for their lives.
Myth #2: COVID-19 is no more dangerous than the seasonal flu.
Fact: In some ways, COVID-19 is similar to the seasonal flu. Both are caused by a virus, are contagious, and have some similar symptoms (cough, fever, aches, and fatigue). However, COVID-19 is different. It's more contagious and more likely to cause severe illness, complications, or long-term health problems. Additionally, you're currently at a greater risk of dying from COVID-19 than the influenza. While certain medications may reduce symptoms of COVID-19, there is no antiviral treatment like there is for the flu.
Myth #3: Wearing a mask does nothing to protect others or myself from COVID-19.
Fact: This one's tricky, as government health agencies changed their recommendations. Despite these institution's poor messaging, research is clear. Masks help prevent the spread of contagious respiratory illnesses such as COVID-19. A covering over your nose and mouth limits the amount of droplets that leave your mouth when you talk, sing, sneeze, or cough. These droplets may carry the virus and spread it to others. During pandemic peaks, masks are especially important, as they help prevent asymptomatic people from spreading the virus.
Myth #4: COVID-19 is an effect of 5G radiation.
Fact: Some people believe that since the COVID-19 pandemic began around the same time that the fifth-generation mobile network was being installed, the illness isn't actually a virus. Rather, it's caused by wireless signals. However, there is no association between COVID-19 and the 5G network. COVID-19 is a viral infection that's infected millions of people around the world.
Myth #5: Essential oils and supplements can prevent or treat Covid.
Fact: There is no proven evidence that quercetin, eucalyptus, vitamin D, vitamin C, or zinc can prevent or treat a COVID-19 infection. The best way to prevent the disease is through vaccination, wearing a mask, social distancing, and washing your hands. That said, if taking these supplements seems to help, use them as recommended.
Myth #6: The best way to end the pandemic is through herd immunity.
Fact: Herd immunity occurs when enough people are immune to a virus that the virus goes away. Immunity can come from having the virus or getting vaccinated. While there is truth to this, seeking immunity through infection may not be the best idea for everyone. As it can lead to long-lasting complications and even death, vaccination is considered a better option by many.