Breakfast with Diabetes
What are healthy breakfast options for a diabetic?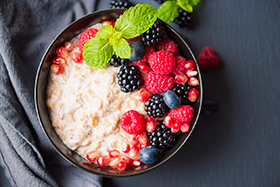 It's often said that breakfast is the most important meal of the day. This is especially true for diabetics. When you have diabetes, many of the traditional Western breakfast foods should be avoided. High-sugar cold cereals, pancakes, waffles, toast, bagels, and muffins may be your go-to breakfast, but they're often high in simple carbs that can raise blood sugar levels. While no foods are completely off limits for someone with diabetes, it takes careful meal planning to consistently manage blood sugar. A healthy diet will include whole grains, low-starch vegetables, fruit, poultry, fish, eggs, low-fat dairy, beans, nuts, seeds, and healthy fats. Foods made with refined, white flour, white rice, sugar, fried foods, and full-fat dairy are poor choices for a diabetic.
As you're planning your meals, make it your goal to include a source of protein and fiber with each morning meal. Here are a few healthy breakfast options that will keep your taste buds and blood sugar levels pleased at the same time.
Eggs
Eggs for breakfast are a safe option for diabetics. Full of protein and nutrients, eggs are easy and fast to prepare. Make them any way you like: hard-boiled, soft-boiled, scrambled, in a frittata, sunny side up, or poached. Serve your eggs with a sprinkle of cheese, a side of fruit, and a piece of whole-grain toast.
Add some fiber to your breakfast by making a veggie omelet. Use whatever kind of chopped up vegetables you have on hand. If you'd like, make your omelet into a breakfast burrito by wrapping the eggs and veggies in a whole-grain tortilla.
Smoothies
There are countless ways to prepare a breakfast smoothie, and they're a great way to make a fast breakfast you can eat on the go. A diabetes-safe smoothie may contain ingredients such as fat-free or unsweetened milk, plain nonfat yogurt or Greek yogurt, fruit, vegetables, wheat germ, peanut butter, chia seeds, and protein powder. Find what tastes good to you and go for it!
Cereal
Most cereals you find in the cereal isle at the grocery store are made with refined grains and added sugars, which should be avoided. However, if you're picky about the cereals you buy, you can find some that are safe for those with diabetes. Steel-cut oatmeal is a healthy option that's filled with fiber, protein, and nutrients. Choose cold cereal with a whole grain listed as its first ingredient, has at least 3 grams of fiber per serving, and less than 6 grams of sugar. Add berries or nuts for added fiber and serve with skim milk, unsweetened almond milk, or low-fat Greek yogurt.
Fruit and Nuts
When you don't have time to prepare a meal or sit down to eat, you can always go with a piece of fruit and a handful of nuts on the go. An apple, orange, banana, or peach paired with almonds, peanuts, or walnuts provide the fiber and protein you need to prevent spikes in blood sugar. It doesn't get much easier than that!
Meats
To take care of their health, diabetics should limit or avoid typical breakfast foods such as bacon and sausage. High in cholesterol, calories, and saturated fat, these meats can raise cholesterol and lead to weight gain. For better health, it's a good idea to choose turkey bacon, Canadian bacon, or turkey sausage.
Drinks
As you're planning your meals, don't forget about what you drink for breakfast. Coffee, tea, and fruit juice are common breakfast beverages, but may contain high amounts of sugar. Be wary of high-fat and sugar-filled coffee drinks. Instead, go easy on the sugar and use low-fat milk in your coffee. You should also limit how much juice you drink, as it's high in natural sugars.